Meet Our Team
---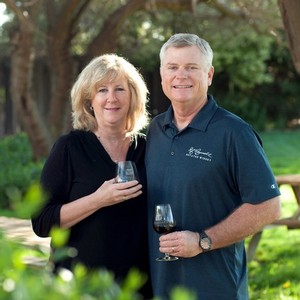 Mike Wackman
Owner & Wine Maker
Mike is the resident winemaker handling his family's wines with the utmost care. Mike had always been interested in winemaking. He attended
Cal Poly, where he received a degree in Agricultural Business/Management.
On the job training at McConnell Estates Winery has allowed Mike to develop his talent for winemaking in a familiar environment.
Alongside, is Mike's wonderful wife Patty. She is a huge hand in bringing McConnell Estates events to life. She has a wonderful way of tying everything together and has made McConnell Estates warm and welcoming for everyone that comes through.
---
Zachary Wackman
Tasting Room Manager
Zachary Wackman grew up immersed in the world of wine. From a young age, he helped his dad, Mike Wackman, create the wines that have defined McConnell Estates Winery. Following his passion, Zack headed to California Polytechnic University in San Luis Obispo to foster his winemaking ability and gain insight to the business side of the wine industry. Now, he's brought his expertise back to his family's winery to manage the tasting room and use his unique experience to grow the business.
---
Amanda Ferguson
Wine Club & Marketing Manager
Amanda graduated California Polytechnic University of Cal Poly with a degree in Graphic Communication Management. Utilizing Cal Poly's "Learn by Doing" motto, Amanda has received on the job education about wine. Now one of our most knowledgeable staff members, she is full of fun wine facts to share with our staff and customers in the tasting room! Aside from wine education, Amanda runs our social media pages and marketing adventures. You might find her chatting with members, pouring wine in the tasting room, or leading private tours around the property.
---
Alex Brainard
Event Manager
Alex graduated from Sacramento State University with a degree in Biology. Since graduating, she has decided to nurture her creative side as our Events Manager at McConnell Estates Winery. A bright and cheerful person, Alex spends her time "selling the fairytale" to the amazing couples that come to tour our wedding venue. Not only does she excel at event management, but she also creates beautiful, handwritten signage for winery events, has a unique talent for flower arranging, and an unmatched eye for detail that always leads her to success.
---
Halie Paige
Event Manager
With three years of experience running her own wedding planning business, Halie joined the McConnell Estates team with a vivacious energy and tenacious spirit. With years of experience seeing all sides of the wedding industry, she is the perfect liaison to bring your individual wedding vision to life at McConnell Estates Winery.