McConnell Estates Blog

Everyone knows that Cabernet Sauvignon pairs well with meat based dishes like steak, but did you know that it can go just as well with a vegetarian meal?
The challenge is to find something hearty enough to stand up to a full bodied wine. We recommend mushrooms because they are savory and have a similar texture to meat. Cheese is also a great addition because it adds a beautiful richness and creaminess that helps balance the tannins often found in a Cabernet Sauvignon.
We decided to pair our just released 2017 Cabernet Sauvignon with a delicious meal! With dark chocolate notes on the nose, flavors of blackberry and dark cherry, and just enough tannin to give it some structure, this wine is sure to be a crowd pleaser! We paired it with a delectable red wine and mushroom risotto—while this recipe does take a little bit of time, the most difficult thing about it is making sure you don't drink all of the wine before dinner! This meal is perfect as either a main or side dish.
Prep takes a mere 15 minutes (or less, if you buy the pre-sliced mushrooms like we did!), while the risotto takes about 1 hour and 30 minutes to complete. You can feed up to 6 people if you serve it as a main dish, or more if you choose to use it as a side!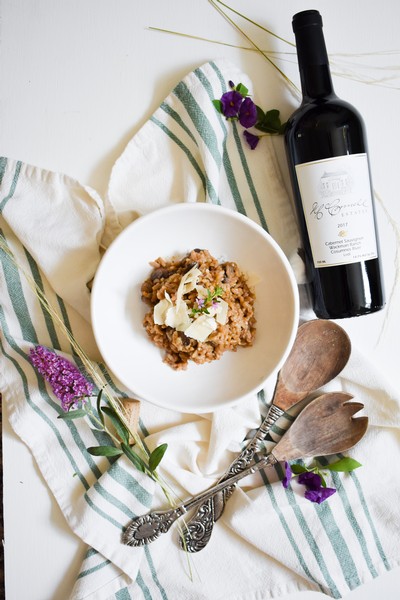 Ingredients:
-2 tbsp. Calvirgin Garlic Olive Oil
-1/2 large yellow onion, diced
-1 clove garlic, minced (or more, if you love garlic!)
-12 ounces of mushrooms, sliced (we used Baby Bella, but Baby Portobello would also be delicious!)
-Salt and pepper to taste
-6 sprigs of fresh thyme (or 3/4 tsp of dried thyme if you don't have fresh available)
-2 cups arborio rice
-1 cup of red wine (we used McConnell Estates Winery's 2017 Cabernet Sauvignon!)
-6-7 cups of vegetable stock, divided
-1/3 cup unsalted butter
-3/4 cup shaved parmesan cheese, plus more for garnish
1.Heat olive oil in large pot over medium heat
2.Add onion and sauté until translucent, about 2 minutes
3.Add your garlic and mushrooms to pot, stirring occasionally for 5-7 minutes until mushrooms are soft and have reduced in size
4.Pull the thyme leaves off the sprigs and add leaves to mixture. Salt and pepper to taste
5.Add arborio rice to pot and toast, stirring frequently until any liquid is absorbed
6.Add red wine to pot. Cook, stirring frequently, until rice has absorbed almost all the wine, about 10 minutes
7.Add 1 cup of vegetable stock and continue stirring frequently until almost all the stock has been absorbed by the rice. Repeat, adding 1 cup of stock at a time, until rice is al dente. Make sure that the stock is almost completely absorbed by the rice before you add any more! We ended up using 6 cups of stock, but it can vary from batch to batch.
8.Once the rice is cooked, remove the risotto from heat
9.Stir in your unsalted butter and Parmesan cheese and stir until they have melted into the risotto. Taste and adjust seasoning if necessary.
10.Top with more parmesan and serve immediately, paired with 2017 Cabernet Sauvignon from McConnell Estates Winery!
The June 2019 wedding of Trisha and Marcos was a beautiful celebration of love and family. The colorful hues and thoughtfully chosen details transformed the venue into a summer wedding dream. The couple was joined by their beautiful pup, Stella, who stole hearts as she greeted guests and joined in on the touching ceremony. Guest headed to the vineyard surrounded lawn to enjoy a delicious dinner and homemade cookies baked by the couple's family. As the stars came out, a night of dancing was kicked off by the bride and groom's playful choreographed routine. This joyous group kept the fun going throughout the night as the celebrated the new Mr. and Mrs.
"This place is so special! What a gem! So many beautiful things here you hardly have to add decor! The staff couldn't have been more accommodating and flexible, especially with our families and a lot of last minute decisions being made."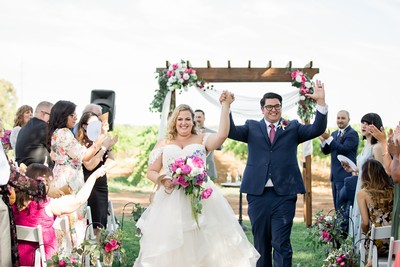 Venue: McConnell Estates Winery
Photographer: White Daisy Photography

February is the month of love and there's not much in the world that we love more than wine and desserts!
We've decided to celebrate with a special tasting flight where we pair some of our most festive wines with delicious desserts. The flight will be offered in our tasting room February 14-16 during tasting hours (11-5 pm). For only $15, treat yourself to a fun, unique, and educational pairing!
In this self guided flight, you'll be able to explore pairings between four wines and their corresponding desserts. You'll learn the basics of food pairing and some great tips and tricks for when you're looking to pair your favorite wines at home.
To kick off the flight, we are pairing our Raspberry Sparkling wine with a lemon bar. The Raspberry Sparkling is a lightly sweet sparkling with fruity notes and a nice tangy finish. The acidity in the lemon and the raspberry balance out the sugary feeling in the sparkling and the bar leaving you with a pairing you can't stop tasting! When doing a pairing like this at home, just make sure that your wine is more acidic than your food, or the wine will come across as flabby and unenjoyable.
Next, we have a pairing of our Blanc de Blanc Sparkling with a raspberry shortbread cookie. The Blanc de Blanc Sparkling contains notes of green apple and nectarine, with a lovely effervescence. Similar to the previous pairing, the Blanc de Blanc Sparkling has a higher acidity content than the raspberry shortbread cookie, which is part of the reason this pairing works so well. A fatty food needs to be paired with a higher acid wine!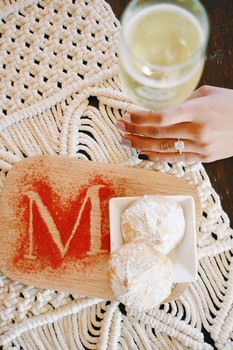 Third on our tasting list, we move on to a red wine. We have paired our 2014 Merlot with a decadent chocolate chip cheesecake bar. Our Merlot has strong tannins up front with flavors reminiscent of strawberry, warm spices, and a candied cherry finish. On first glance, this seems like a pretty interesting pairing—don't most desserts get paired with sweeter wines? While that is certainly a way to do it, a high tannin wine can be balanced out with a sweeter food like this cheesecake bar!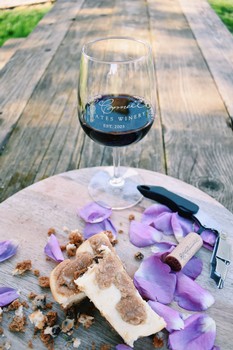 To wrap up our tasting list, we go back to basics—a sweet wine with a sweet food. We are pairing our 6 Gen Zin (a late harvest Zinfandel & our most recent release) with a dark chocolate fudge brownie. Our 6 Gen Zin has about 2% residual sugar which keeps it a little bit sweeter. Despite the sweetness, the wine contains a lot of complexity—dark fruit, blackberry and cocoa notes, with a medium acidity. The key to pairing a sweet wine with a sweet food is to make sure that the wine is sweeter than the food. That's why we typically go with a dark chocolate with this wine!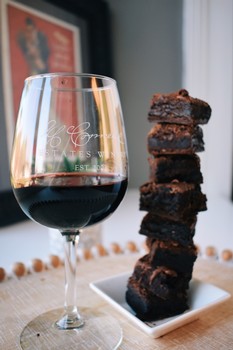 Overall, the most fun part of pairing wines is trying all different types of wines with different foods. There are some basic rules that can guide you in the right direction, but the best pairings are always the ones that you love! If you have any amazing pairing suggestions for us, drop a comment below!

In January, we start hearing the same script from practically everyone we know.
New year, new me!
Dry January!
Time to get healthy!
But what if I told you that you didn't need to cut out your favorite part of your day to be healthy? What if I told you…that wine is good for you?
And it is!
In fact, many studies have linked wine to benefiting hearth health, combating inflammation, and even lowering your risk of depression!
Red wine in particular is rich in antioxidants and resveratol. Antioxidants are found to prevent damage to the cells caused by inflammation, and is associated with a decreased risk of diseases including Alzheimer's and Parkinson's. They can also help you live longer! It also can help reduce your risk of high blood pressure and high cholesterol! Resveratol has anti-inflammatory properties. Inflammation increases the risk of heart disease, autoimmune disorders, and certain cancers. Studies have even found that a moderate amount of wine (2-7 glasses a week) is significantly linked to lowering the risk of depression.
Some varietals of red wine are higher in health benefits than others. Petite Syrah and Tannat are two types of wines that contain more antioxidants and resveratol than other red wines. Petite Syrah is known for it's dark purple color which is indicative of its full bodied flavor. Because the grape itself is so small, the extra skin contact with the juice imparts more color and more of these healthy benefits. Tannat is healthy for similar reasons—but because of it's extra thick skins!
Our 2014 Petite Syrah and our 2016 Tannat are currently on our tasting list and ready to pour! The 2014 Petite Syrah has dark berry notes, cocoa, and velvety tannins all the way throughout. It's simply spectacular! Our 2016 Tannat is one of our most unique wines. It has a vanilla nose, while being well balanced between earthy and fruit flavors. Round tannins keep this wine interesting on the palate, and very food friendly!
We will see you in the tasting room, open Friday-Sunday from 11-5, to help you stick to your New Years Resolutions!
If you're interested in learning more about wine & it's health benefits, check out these sources below:
https://www.ncbi.nlm.nih.gov/pmc/articles/PMC3765610/
https://www.ncbi.nlm.nih.gov/pmc/articles/PMC2039729/
https://www.ncbi.nlm.nih.gov/pmc/articles/PMC5852837/
https://www.ncbi.nlm.nih.gov/pubmed/30513737
https://www.ncbi.nlm.nih.gov/pmc/articles/PMC2694248/

'Tis the season to drink lots of wine! With so many events happening this time of year, it can be hard to keep up. A little bit of wine can go a long way to keeping you relaxed, happy, and ready to take on all those holiday parties! To make your life even easier, follow our guide to be either the best guest or host this holiday season! We'll show you some suggestions on how to pair your wines, as well as some delicious recipes from our staff.
To kick things off, we recommend popping a bottle of our Blanc de Blanc Sparkling Wine during appetizers. Festive, light, and refreshing, your guests can either drink this on its own, or make custom mimosas with whichever fruit juices you like. This Blanc de Blanc Sparkling pairs incredibly with a cheese and charcuterie board. Our general manager, Katelyn Drummond—also known as the Charcuterie Board Master—shared her secrets to making a show-stopping board! Her top piece of advice is: you want a little of a lot of different things! Try a combination of dried fruit, fresh fruit, crackers, bread, nuts, greens, jam, meats, hard cheese, and soft cheeses. Her comprehensive list of favorites will be at the bottom of this blog to help you be a Charcuterie Board Master as well!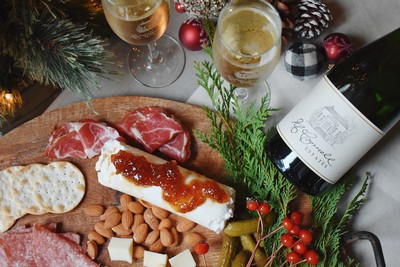 After appetizers, it's time for something a little more substantial. Our 2018 Chardonnay will pair perfectly with any turkey, duck, or goose main dishes or sides. Since our 2018 Chardonnay is stainless steel fermented, it will be a light and crisp accompaniment to these dishes. This crowd pleasing wine is versatile and delicious, with flavors of apple and tropical fruits. Our tasting room staff member, Robin Horton, shares her tip to making the perfect turkey: "Always cook your turkey in a baking bag. It will keep it moist throughout the cooking process, and then at the end you open it to brown it". Check out her recipe for turkey at the end of this blog.
Time for the main course! If you're going big and bold with something like a Prime Rib, we recommend pairing it with our incomparable MKW Winemaker's Blend. This reserve wine is sure to impress your guests with its green pepper nose, cherry notes, and firm but rounded tannins. It has just enough structure to it to complement your meal without overpowering your favorite flavors. Every year for Christmas, our winemaker and his family make a delicious prime rib—check out his special recipe below!
To finish the evening on a sweet note, we recommend wrapping up with a little bit of dessert! Our new vintage of 6 Gen Zin pairs perfectly with most sugary and chocolatey treats! Amanda Perry, our Marketing Manager, shared her recipe for her favorite Oatmeal Chocolate Chocolate Chip Cookies! The semisweet chocolate and hints of cinnamon perfectly complement the berries and oak in the late harvest Zinfandel. Check out her recipe below!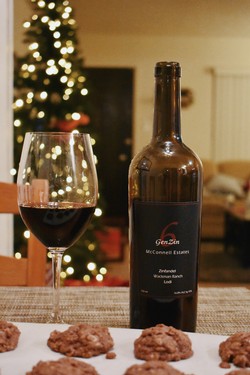 We hope that this guide to wine and food pairings makes your holiday a breeze! Visit our tasting room December 20-22, 2019 for 30% off a 4 pack. Keep our selection or build your own with choice of 1 sparkling, 1 white, and 2 red wines!






How to be a Charcuterie Board Master
Tips by Katelyn Drummond
Dried fruit:
apricots (my favorite! Adds a great pop of color)
prunes
figs
Fresh fruit:
Picking fruit that require no prep work is a huge time saver!
strawberries
grapes
blueberries
Crackers:
You want to try to choose different shaped and flavored crackers to add dimension to the board; round, square, rectangle, etc.
1 cracker type that is plain
1 cracker type that is seasoned (pepper or garlic are my go-to)
Add a crostini or sliced baguette for more options
Nuts:
Any nuts will work, but my favorites are
Blue Diamond salted almonds
Blue Diamond rosemary raw almonds
Greens:
Great for adding color to the board!
olives
mini pickles
rosemary sprigs
fig leaves
Cheese:
Don't forget to mix soft cheeses and hard cheeses! Try to pick cheeses that can be displayed different ways as well (e.g. Brie can be left in a wedge, while harder cheeses will need to be cubed or cut)
Havarti
Stuyt Gouda (available for sale in our tasting room)
Brie
Blue
Gruyere
Sharp cheddar
Herbed goat
Menchego
Jams:
Adds nice color to the board, with a little sweetness to round out your flavor profiles
Fig jam
Cherry jam
Apricot jam
Pepper jam
Meats:
Try displaying the meats in different ways! Flat, folded, pinched, cubed, etc.
Salame
Peppered Salame
Prosciutto
Coppa
Robin's Turkey
Hot tip: cook your turkey in a baking bag to keep it moist. Open it up at the end to brown.
Step 1: Remove giblets
Step 2: Season the inside and outside with some season-all salt and pepper
Step 3: Sprinkle bottom of the baking bag with flour & put turkey, chopped celery, and onions in the bag. Seal bag and poke several holes in it to vent.
Step 4: Bake until internal temperature reaches 180 degrees
Wackman Family Prime Rib
Make a paste for the rub
1/4 Cup chopped fresh basil
1/4 cup chopped fresh oregano
1/4 cup chopped fresh parsley
1/4 cup chopped fresh rosemary
3 table spoons extra virgin olive oil
1 tablespoon freshly ground black pepper
1 tablespoon kosher salt
1 Seven-seven bone prime rib roast - or a choice rib roast the most butchers have - cradled which means the bone is cut from the roast but still attached at one end of the roast and tied on the roast. 12- 14 lbs
1/4 cup of chopped garlic
Take prime rib out of the refrigerator
Make the paste
Press the garlic into the roast
Spread the paste over the roast on top, sides and between the bone and the bottom of the roast wrap in cheese cloth
Let stand for 30-40 minutes
Cook in convection oven
Set convection oven to 200 degrees
Cook for about 4 to 4 1/2 hours
Remove from oven when internal temperature is 120 to 125 degrees F
Let sit for 30-40 minutes covered with aluminum foil
Right before serving head convection oven to 450 degrees -
Put roast back into oven for 8 minutes to sear the outside.
Serve immediately
On Grill
Heat and keep grill temperature at 275 degrees
Place on grill
Cook to internal temperature of 130 degrees About 4 hours cook time
Remove from gill and cover with aluminum foil
Let sit for 30 minutes then serve.
Amanda's Chocolate Chocolate Chip Oatmeal Cookies
Mix in large bowl:
1/2 c. sugar
1 c. packed brown sugar
2 t. vanilla
2 eggs
Mix in small bowl:
2 c. flour
1 t. baking soda
1 t. salt
2 1/2 t. cinnamon
1/4 cup cocoa
Combine flour mixture with first bowl of ingredients. Add 2 cups of oatmeal and 1 cup of semisweet chocolate chips. Bake at 350 degrees for 9-11 minutes.

Ever since the doors to McConnell Estates Winery opened in 2003, we have had one winemaker—Michael K. Wackman. One of the owners of McConnell Estates and Wackman Ranch, he grew up on this land with his two brothers and co-owners, Howard and Alan.
With a lifelong interest in farming due to his upbringing, Mike headed to Cal Poly San Luis Obispo to obtain a degree in Agricultural Management. After college, Mike returned to the family farm to help his brother Howard to operate the business. Mike became very involved in the local, state and national Farm Bureau's which peaked his interest in being involved in politics. In 1993 Mike was hired as a Senior Policy Advisor for a congressman in Sacramento/San Joaquin county where he spent 13 years working on agriculture and natural resource issues while maintaining his management in the family farm. About 25 years ago one of his friends convinced him to make a homemade wine. This experience opened the door to a curiosity about winemaking that has sustained to this day.
In 1993, his family converted their farm from a sheep farm to wine grapes. This presented Mike with the opportunity to learn more about winemaking. He enrolled in classes through the UC Extension to learn about the wine making process, then hired a mentor winemaker to come out and work with him for his first few years as McConnell Estates' head winemaker. From there on out, winemaking has been Mike's passion and a huge part of his life.
In his 17 years as a winemaker, Mike has subscribed to the same winemaking philosophy: Keep it simple and stay true to the varietal! The oak barrels and other additives that he uses are only used as a way to enhance the natural varietal characteristics of each grape. In fact, his philosophy of staying true to the varietal meant that we didn't get a blend for years! The first blended wine he made was our 2014 MKW Winemaker's Blend, named of course, after Michael K. Wackman. The 2014 MKW was 65% Cabernet, 30% Merlot, and 5% Tannat; Mike loves Bordeaux blends so he wanted to emulate that in his signature blend. Cabernet and Merlot are staples of a Bordeaux blend, and he substituted Cabernet Franc (which we don't grow on the property) for Tannat. Tannat gives a beautiful color and tannin structure to the wine which is what Cabernet Franc tends to supply in a blend.
After the roaring success of our first MKW Winemaker's Blend, Mike began working on his next vintage. He tried different percentages of each varietal (Cabernet, Merlot, and Tannat) to create an optimal blend that allows each of the different characteristics from the different grapes to come through in the complexity of the wine, while still harmonizing all the different flavors and styles. For example, the flavor of Tannat can be strong, and when he tried combinations with more than 5% Tannat in them, the flavors of Tannat completely overpowered the other grapes. After much trial and error, for our upcoming MKW, he decided on 70% 2017 Cabernet, 25% 2018 Merlot, and 5% 2017 Tannat. There is a bit of green pepper on the nose from the Merlot, notes of cherry that can be attributed to the Cabernet Sauvignon, and beautiful color and rounded, mellow tannins from the Tannat. This non-vintage wine will be released at our December Wine Club Party, and is the perfect wine to drink this holiday season.
When asked about his favorite winemaking story, Mike won't hesitate to tell you about the first year of our 6 Gen Zin. "It was a Zinfandel that was stuck during fermentation, in 2006. We didn't know what to do, and we had a lot of wine coming in so my mentor just told me to leave it in a barrel and deal with it later," he'll say with a laugh. "The longer it sat, the better and better it got! We ended up releasing it as a higher alcohol Zinfandel with a bit of residual sugar and dedicated it to our 6 kids, the 6th generation". 13 years later, our 6 Gen Zin is a cult favorite for members of McConnell Estates Winery, with a whole wine club dedicated to it!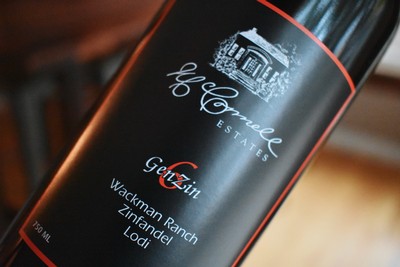 Quick Q & A with Mike:
Q: What is your go-to wine varietal to drink?
A: Cabernet Sauvignon. I love the complexities of a Cab. It's also my favorite to make because it's an easier grape to work with. It ferments nicely, bottles well, doesn't have VA issues…Nice, thick skins give it a great color.
Q: What is your favorite food and wine paring?
A: Steak and Cab
Q: What is your favorite thing about making wine?
A: Drinking it! Haha.
Q: Favorite grape to eat while you're out in the field?
A: Tempranillo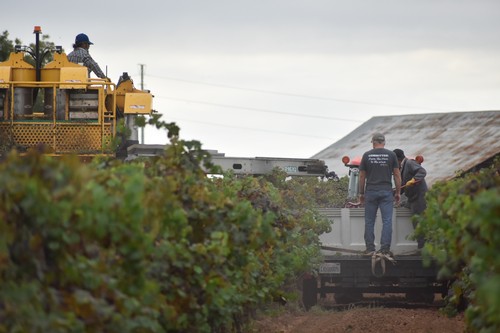 Harvest is a busy time here at McConnell Estates Winery! We may be a small winery, but we have over 700 acres of grapes on our property. Most of the grapes we grow are contracted out to other wineries. The only grape that we don't sell to any other winery is our Tempranillo, as it is one of our favorite and most popular varietals.
As of now, we're about halfway done with harvest. By the end of harvest, we'll have harvested more than 4,000 tons of grapes (over 252,000 cases of wine)! As a winery, we only produce about 2,000 cases of our own wines which is less than 1% of the total grapes grown on the property. Currently, we've harvested Syrah, Barbera, Tempranillo, and Tannat, with Merlot, Petite Syrah, Zinfandel, Malbec, and Cabernet Sauvignon expected to reach peak ripeness in the next couple weeks. Initially, with the cool spring weather, we thought that harvest was going to be a little later than usual this year, but we are back on track for our usual harvest timeline!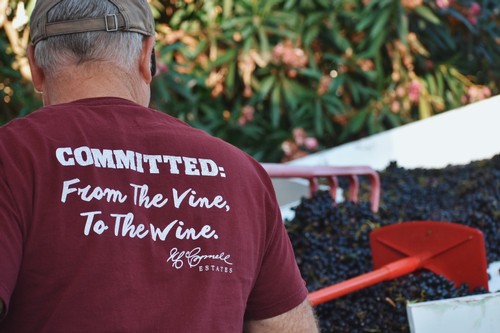 This year, we have a few things going on during harvest that are different from years before. For example, we're harvesting Malbec for only the second time, and are excited to produce a reserve wine dedicated to one of our owners, Alan Wackman. The first vintage of our Malbec was previewed at our Family at the Farmtable dinner in early October. It is expected to be bottled in August of next year. Since Malbec is a new grape to work with, our winemaker Mike is excited to get to know this yummy grape in the cellar!
Another new addition to our harvest this year was the fact that we harvested our Syrah specifically to make a Rosé. We have never made a Rosé of Syrah before, but it is turning out incredible! Since we harvested the Syrah to make a Rosé instead of a red wine, we pulled the grapes in a little bit earlier to keep the acidity levels a bit higher. This keeps the wine lively and adds complexity to the flavors. The Rosé of Syrah is turning out to have very different flavors than our red wine Syrah. As a red wine, Syrah tends to display more earthy characteristics, but as a Rosé, we are getting a lot of bright fruits. It will probably be a bit more bold than our previous Rosés, with a nice structure, mouthfeel, and a beautiful pink color! This was one of the first grapes we brought in this harvest, and it's been incredible to taste the changes over just a month—we can't wait to see what it tastes like by the time we release it next year!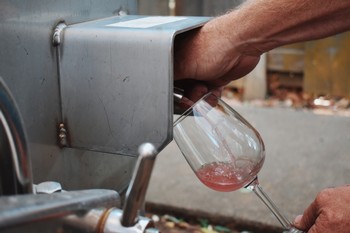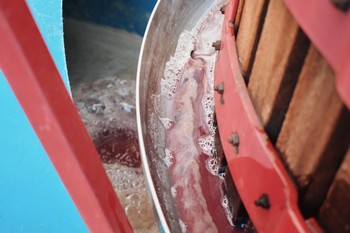 With only about two more weeks left to go in harvest, we still have a lot to do! We have four or more grapes that still need to be picked, crush of all the grapes we bring in, punch-downs galore, and lots of long nights and early mornings. As fun as harvest is, it always ends up being a bit of a relief when it is over and we can finally get a good night's sleep!