September 3, 2020 | Amanda Perry
Cabernet Sauvignon Food Pairing
Everyone knows that Cabernet Sauvignon pairs well with meat based dishes like steak, but did you know that it can go just as well with a vegetarian meal?
The challenge is to find something hearty enough to stand up to a full bodied wine. We recommend mushrooms because they are savory and have a similar texture to meat. Cheese is also a great addition because it adds a beautiful richness and creaminess that helps balance the tannins often found in a Cabernet Sauvignon.
We decided to pair our just released 2017 Cabernet Sauvignon with a delicious meal! With dark chocolate notes on the nose, flavors of blackberry and dark cherry, and just enough tannin to give it some structure, this wine is sure to be a crowd pleaser! We paired it with a delectable red wine and mushroom risotto—while this recipe does take a little bit of time, the most difficult thing about it is making sure you don't drink all of the wine before dinner! This meal is perfect as either a main or side dish.
Prep takes a mere 15 minutes (or less, if you buy the pre-sliced mushrooms like we did!), while the risotto takes about 1 hour and 30 minutes to complete. You can feed up to 6 people if you serve it as a main dish, or more if you choose to use it as a side!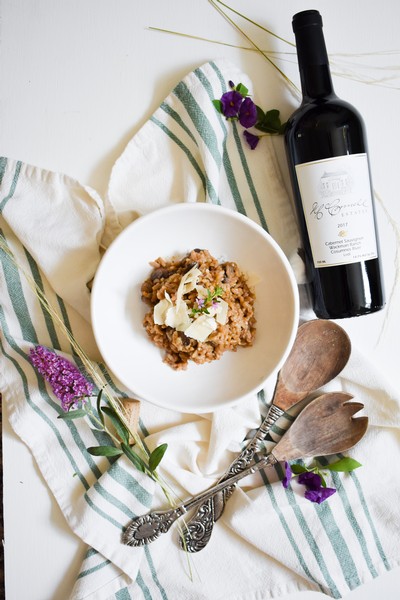 Ingredients:
-2 tbsp. Calvirgin Garlic Olive Oil
-1/2 large yellow onion, diced
-1 clove garlic, minced (or more, if you love garlic!)
-12 ounces of mushrooms, sliced (we used Baby Bella, but Baby Portobello would also be delicious!)
-Salt and pepper to taste
-6 sprigs of fresh thyme (or 3/4 tsp of dried thyme if you don't have fresh available)
-2 cups arborio rice
-1 cup of red wine (we used McConnell Estates Winery's 2017 Cabernet Sauvignon!)
-6-7 cups of vegetable stock, divided
-1/3 cup unsalted butter
-3/4 cup shaved parmesan cheese, plus more for garnish
1.Heat olive oil in large pot over medium heat
2.Add onion and sauté until translucent, about 2 minutes
3.Add your garlic and mushrooms to pot, stirring occasionally for 5-7 minutes until mushrooms are soft and have reduced in size
4.Pull the thyme leaves off the sprigs and add leaves to mixture. Salt and pepper to taste
5.Add arborio rice to pot and toast, stirring frequently until any liquid is absorbed
6.Add red wine to pot. Cook, stirring frequently, until rice has absorbed almost all the wine, about 10 minutes
7.Add 1 cup of vegetable stock and continue stirring frequently until almost all the stock has been absorbed by the rice. Repeat, adding 1 cup of stock at a time, until rice is al dente. Make sure that the stock is almost completely absorbed by the rice before you add any more! We ended up using 6 cups of stock, but it can vary from batch to batch.
8.Once the rice is cooked, remove the risotto from heat
9.Stir in your unsalted butter and Parmesan cheese and stir until they have melted into the risotto. Taste and adjust seasoning if necessary.
10.Top with more parmesan and serve immediately, paired with 2017 Cabernet Sauvignon from McConnell Estates Winery!
Comments
Lisa

@ Apr 3, 2021 at 4:08 AM

Excellent read, Positive site, where did u come up with the information on this posting? I have read a few of the articles on your website now, and I really like your style. Thanks a million and please keep up the effective work

Commenting has been turned off.