October 17, 2019 | Amanda Perry
Harvest at McConnell 2019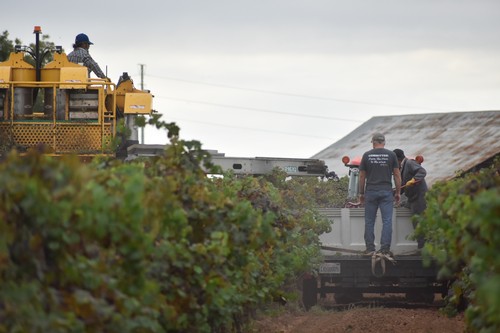 Harvest is a busy time here at McConnell Estates Winery! We may be a small winery, but we have over 700 acres of grapes on our property. Most of the grapes we grow are contracted out to other wineries. The only grape that we don't sell to any other winery is our Tempranillo, as it is one of our favorite and most popular varietals.
As of now, we're about halfway done with harvest. By the end of harvest, we'll have harvested more than 4,000 tons of grapes (over 252,000 cases of wine)! As a winery, we only produce about 2,000 cases of our own wines which is less than 1% of the total grapes grown on the property. Currently, we've harvested Syrah, Barbera, Tempranillo, and Tannat, with Merlot, Petite Syrah, Zinfandel, Malbec, and Cabernet Sauvignon expected to reach peak ripeness in the next couple weeks. Initially, with the cool spring weather, we thought that harvest was going to be a little later than usual this year, but we are back on track for our usual harvest timeline!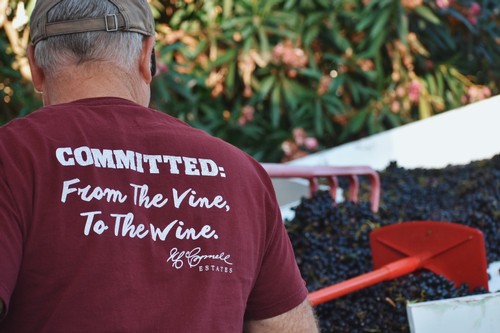 This year, we have a few things going on during harvest that are different from years before. For example, we're harvesting Malbec for only the second time, and are excited to produce a reserve wine dedicated to one of our owners, Alan Wackman. The first vintage of our Malbec was previewed at our Family at the Farmtable dinner in early October. It is expected to be bottled in August of next year. Since Malbec is a new grape to work with, our winemaker Mike is excited to get to know this yummy grape in the cellar!
Another new addition to our harvest this year was the fact that we harvested our Syrah specifically to make a Rosé. We have never made a Rosé of Syrah before, but it is turning out incredible! Since we harvested the Syrah to make a Rosé instead of a red wine, we pulled the grapes in a little bit earlier to keep the acidity levels a bit higher. This keeps the wine lively and adds complexity to the flavors. The Rosé of Syrah is turning out to have very different flavors than our red wine Syrah. As a red wine, Syrah tends to display more earthy characteristics, but as a Rosé, we are getting a lot of bright fruits. It will probably be a bit more bold than our previous Rosés, with a nice structure, mouthfeel, and a beautiful pink color! This was one of the first grapes we brought in this harvest, and it's been incredible to taste the changes over just a month—we can't wait to see what it tastes like by the time we release it next year!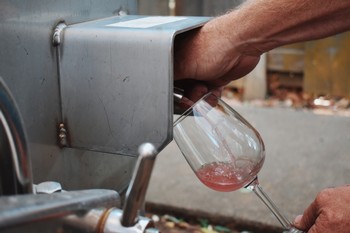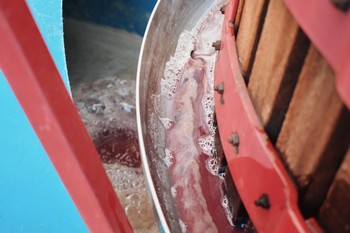 With only about two more weeks left to go in harvest, we still have a lot to do! We have four or more grapes that still need to be picked, crush of all the grapes we bring in, punch-downs galore, and lots of long nights and early mornings. As fun as harvest is, it always ends up being a bit of a relief when it is over and we can finally get a good night's sleep!
Comments
Commenting has been turned off.