December 19, 2019 | Amanda Perry
Holiday Party Pairing Guide
'Tis the season to drink lots of wine! With so many events happening this time of year, it can be hard to keep up. A little bit of wine can go a long way to keeping you relaxed, happy, and ready to take on all those holiday parties! To make your life even easier, follow our guide to be either the best guest or host this holiday season! We'll show you some suggestions on how to pair your wines, as well as some delicious recipes from our staff.
To kick things off, we recommend popping a bottle of our Blanc de Blanc Sparkling Wine during appetizers. Festive, light, and refreshing, your guests can either drink this on its own, or make custom mimosas with whichever fruit juices you like. This Blanc de Blanc Sparkling pairs incredibly with a cheese and charcuterie board. Our general manager, Katelyn Drummond—also known as the Charcuterie Board Master—shared her secrets to making a show-stopping board! Her top piece of advice is: you want a little of a lot of different things! Try a combination of dried fruit, fresh fruit, crackers, bread, nuts, greens, jam, meats, hard cheese, and soft cheeses. Her comprehensive list of favorites will be at the bottom of this blog to help you be a Charcuterie Board Master as well!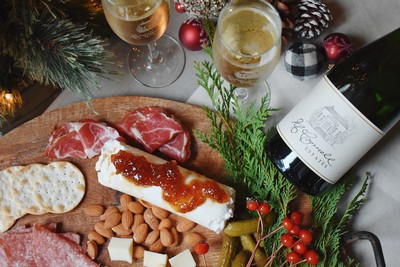 After appetizers, it's time for something a little more substantial. Our 2018 Chardonnay will pair perfectly with any turkey, duck, or goose main dishes or sides. Since our 2018 Chardonnay is stainless steel fermented, it will be a light and crisp accompaniment to these dishes. This crowd pleasing wine is versatile and delicious, with flavors of apple and tropical fruits. Our tasting room staff member, Robin Horton, shares her tip to making the perfect turkey: "Always cook your turkey in a baking bag. It will keep it moist throughout the cooking process, and then at the end you open it to brown it". Check out her recipe for turkey at the end of this blog.
Time for the main course! If you're going big and bold with something like a Prime Rib, we recommend pairing it with our incomparable MKW Winemaker's Blend. This reserve wine is sure to impress your guests with its green pepper nose, cherry notes, and firm but rounded tannins. It has just enough structure to it to complement your meal without overpowering your favorite flavors. Every year for Christmas, our winemaker and his family make a delicious prime rib—check out his special recipe below!
To finish the evening on a sweet note, we recommend wrapping up with a little bit of dessert! Our new vintage of 6 Gen Zin pairs perfectly with most sugary and chocolatey treats! Amanda Perry, our Marketing Manager, shared her recipe for her favorite Oatmeal Chocolate Chocolate Chip Cookies! The semisweet chocolate and hints of cinnamon perfectly complement the berries and oak in the late harvest Zinfandel. Check out her recipe below!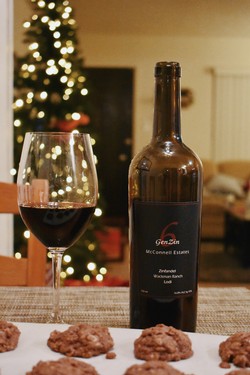 We hope that this guide to wine and food pairings makes your holiday a breeze! Visit our tasting room December 20-22, 2019 for 30% off a 4 pack. Keep our selection or build your own with choice of 1 sparkling, 1 white, and 2 red wines!






How to be a Charcuterie Board Master
Tips by Katelyn Drummond
Dried fruit:
apricots (my favorite! Adds a great pop of color)
prunes
figs
Fresh fruit:
Picking fruit that require no prep work is a huge time saver!
strawberries
grapes
blueberries
Crackers:
You want to try to choose different shaped and flavored crackers to add dimension to the board; round, square, rectangle, etc.
1 cracker type that is plain
1 cracker type that is seasoned (pepper or garlic are my go-to)
Add a crostini or sliced baguette for more options
Nuts:
Any nuts will work, but my favorites are
Blue Diamond salted almonds
Blue Diamond rosemary raw almonds
Greens:
Great for adding color to the board!
olives
mini pickles
rosemary sprigs
fig leaves
Cheese:
Don't forget to mix soft cheeses and hard cheeses! Try to pick cheeses that can be displayed different ways as well (e.g. Brie can be left in a wedge, while harder cheeses will need to be cubed or cut)
Havarti
Stuyt Gouda (available for sale in our tasting room)
Brie
Blue
Gruyere
Sharp cheddar
Herbed goat
Menchego
Jams:
Adds nice color to the board, with a little sweetness to round out your flavor profiles
Fig jam
Cherry jam
Apricot jam
Pepper jam
Meats:
Try displaying the meats in different ways! Flat, folded, pinched, cubed, etc.
Salame
Peppered Salame
Prosciutto
Coppa
Robin's Turkey
Hot tip: cook your turkey in a baking bag to keep it moist. Open it up at the end to brown.
Step 1: Remove giblets
Step 2: Season the inside and outside with some season-all salt and pepper
Step 3: Sprinkle bottom of the baking bag with flour & put turkey, chopped celery, and onions in the bag. Seal bag and poke several holes in it to vent.
Step 4: Bake until internal temperature reaches 180 degrees
Wackman Family Prime Rib
Make a paste for the rub
1/4 Cup chopped fresh basil
1/4 cup chopped fresh oregano
1/4 cup chopped fresh parsley
1/4 cup chopped fresh rosemary
3 table spoons extra virgin olive oil
1 tablespoon freshly ground black pepper
1 tablespoon kosher salt
1 Seven-seven bone prime rib roast - or a choice rib roast the most butchers have - cradled which means the bone is cut from the roast but still attached at one end of the roast and tied on the roast. 12- 14 lbs
1/4 cup of chopped garlic
Take prime rib out of the refrigerator
Make the paste
Press the garlic into the roast
Spread the paste over the roast on top, sides and between the bone and the bottom of the roast wrap in cheese cloth
Let stand for 30-40 minutes
Cook in convection oven
Set convection oven to 200 degrees
Cook for about 4 to 4 1/2 hours
Remove from oven when internal temperature is 120 to 125 degrees F
Let sit for 30-40 minutes covered with aluminum foil
Right before serving head convection oven to 450 degrees -
Put roast back into oven for 8 minutes to sear the outside.
Serve immediately
On Grill
Heat and keep grill temperature at 275 degrees
Place on grill
Cook to internal temperature of 130 degrees About 4 hours cook time
Remove from gill and cover with aluminum foil
Let sit for 30 minutes then serve.
Amanda's Chocolate Chocolate Chip Oatmeal Cookies
Mix in large bowl:
1/2 c. sugar
1 c. packed brown sugar
2 t. vanilla
2 eggs
Mix in small bowl:
2 c. flour
1 t. baking soda
1 t. salt
2 1/2 t. cinnamon
1/4 cup cocoa
Combine flour mixture with first bowl of ingredients. Add 2 cups of oatmeal and 1 cup of semisweet chocolate chips. Bake at 350 degrees for 9-11 minutes.
Comments
Commenting has been turned off.