November 27, 2019 | Amanda Perry
Meet the Winemaker
Ever since the doors to McConnell Estates Winery opened in 2003, we have had one winemaker—Michael K. Wackman. One of the owners of McConnell Estates and Wackman Ranch, he grew up on this land with his two brothers and co-owners, Howard and Alan.
With a lifelong interest in farming due to his upbringing, Mike headed to Cal Poly San Luis Obispo to obtain a degree in Agricultural Management. After college, Mike returned to the family farm to help his brother Howard to operate the business. Mike became very involved in the local, state and national Farm Bureau's which peaked his interest in being involved in politics. In 1993 Mike was hired as a Senior Policy Advisor for a congressman in Sacramento/San Joaquin county where he spent 13 years working on agriculture and natural resource issues while maintaining his management in the family farm. About 25 years ago one of his friends convinced him to make a homemade wine. This experience opened the door to a curiosity about winemaking that has sustained to this day.
In 1993, his family converted their farm from a sheep farm to wine grapes. This presented Mike with the opportunity to learn more about winemaking. He enrolled in classes through the UC Extension to learn about the wine making process, then hired a mentor winemaker to come out and work with him for his first few years as McConnell Estates' head winemaker. From there on out, winemaking has been Mike's passion and a huge part of his life.
In his 17 years as a winemaker, Mike has subscribed to the same winemaking philosophy: Keep it simple and stay true to the varietal! The oak barrels and other additives that he uses are only used as a way to enhance the natural varietal characteristics of each grape. In fact, his philosophy of staying true to the varietal meant that we didn't get a blend for years! The first blended wine he made was our 2014 MKW Winemaker's Blend, named of course, after Michael K. Wackman. The 2014 MKW was 65% Cabernet, 30% Merlot, and 5% Tannat; Mike loves Bordeaux blends so he wanted to emulate that in his signature blend. Cabernet and Merlot are staples of a Bordeaux blend, and he substituted Cabernet Franc (which we don't grow on the property) for Tannat. Tannat gives a beautiful color and tannin structure to the wine which is what Cabernet Franc tends to supply in a blend.
After the roaring success of our first MKW Winemaker's Blend, Mike began working on his next vintage. He tried different percentages of each varietal (Cabernet, Merlot, and Tannat) to create an optimal blend that allows each of the different characteristics from the different grapes to come through in the complexity of the wine, while still harmonizing all the different flavors and styles. For example, the flavor of Tannat can be strong, and when he tried combinations with more than 5% Tannat in them, the flavors of Tannat completely overpowered the other grapes. After much trial and error, for our upcoming MKW, he decided on 70% 2017 Cabernet, 25% 2018 Merlot, and 5% 2017 Tannat. There is a bit of green pepper on the nose from the Merlot, notes of cherry that can be attributed to the Cabernet Sauvignon, and beautiful color and rounded, mellow tannins from the Tannat. This non-vintage wine will be released at our December Wine Club Party, and is the perfect wine to drink this holiday season.
When asked about his favorite winemaking story, Mike won't hesitate to tell you about the first year of our 6 Gen Zin. "It was a Zinfandel that was stuck during fermentation, in 2006. We didn't know what to do, and we had a lot of wine coming in so my mentor just told me to leave it in a barrel and deal with it later," he'll say with a laugh. "The longer it sat, the better and better it got! We ended up releasing it as a higher alcohol Zinfandel with a bit of residual sugar and dedicated it to our 6 kids, the 6th generation". 13 years later, our 6 Gen Zin is a cult favorite for members of McConnell Estates Winery, with a whole wine club dedicated to it!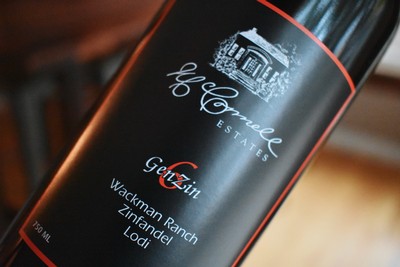 Quick Q & A with Mike:
Q: What is your go-to wine varietal to drink?
A: Cabernet Sauvignon. I love the complexities of a Cab. It's also my favorite to make because it's an easier grape to work with. It ferments nicely, bottles well, doesn't have VA issues…Nice, thick skins give it a great color.
Q: What is your favorite food and wine paring?
A: Steak and Cab
Q: What is your favorite thing about making wine?
A: Drinking it! Haha.
Q: Favorite grape to eat while you're out in the field?
A: Tempranillo
Comments
Commenting has been turned off.