February 11, 2020 | Amanda Perry
Oh So Sweet!
February is the month of love and there's not much in the world that we love more than wine and desserts!
We've decided to celebrate with a special tasting flight where we pair some of our most festive wines with delicious desserts. The flight will be offered in our tasting room February 14-16 during tasting hours (11-5 pm). For only $15, treat yourself to a fun, unique, and educational pairing!
In this self guided flight, you'll be able to explore pairings between four wines and their corresponding desserts. You'll learn the basics of food pairing and some great tips and tricks for when you're looking to pair your favorite wines at home.
To kick off the flight, we are pairing our Raspberry Sparkling wine with a lemon bar. The Raspberry Sparkling is a lightly sweet sparkling with fruity notes and a nice tangy finish. The acidity in the lemon and the raspberry balance out the sugary feeling in the sparkling and the bar leaving you with a pairing you can't stop tasting! When doing a pairing like this at home, just make sure that your wine is more acidic than your food, or the wine will come across as flabby and unenjoyable.
Next, we have a pairing of our Blanc de Blanc Sparkling with a raspberry shortbread cookie. The Blanc de Blanc Sparkling contains notes of green apple and nectarine, with a lovely effervescence. Similar to the previous pairing, the Blanc de Blanc Sparkling has a higher acidity content than the raspberry shortbread cookie, which is part of the reason this pairing works so well. A fatty food needs to be paired with a higher acid wine!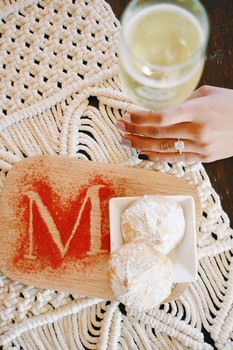 Third on our tasting list, we move on to a red wine. We have paired our 2014 Merlot with a decadent chocolate chip cheesecake bar. Our Merlot has strong tannins up front with flavors reminiscent of strawberry, warm spices, and a candied cherry finish. On first glance, this seems like a pretty interesting pairing—don't most desserts get paired with sweeter wines? While that is certainly a way to do it, a high tannin wine can be balanced out with a sweeter food like this cheesecake bar!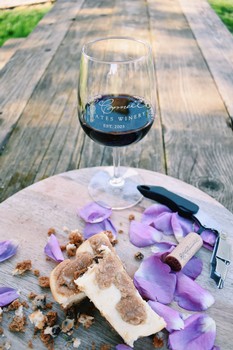 To wrap up our tasting list, we go back to basics—a sweet wine with a sweet food. We are pairing our 6 Gen Zin (a late harvest Zinfandel & our most recent release) with a dark chocolate fudge brownie. Our 6 Gen Zin has about 2% residual sugar which keeps it a little bit sweeter. Despite the sweetness, the wine contains a lot of complexity—dark fruit, blackberry and cocoa notes, with a medium acidity. The key to pairing a sweet wine with a sweet food is to make sure that the wine is sweeter than the food. That's why we typically go with a dark chocolate with this wine!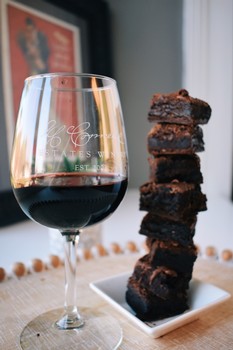 Overall, the most fun part of pairing wines is trying all different types of wines with different foods. There are some basic rules that can guide you in the right direction, but the best pairings are always the ones that you love! If you have any amazing pairing suggestions for us, drop a comment below!
Comments
Ecoware
@ Mar 5, 2021 at 10:38 PM
well thats nice
ssdvgws
@ Apr 14, 2021 at 3:02 AM
we