March 5, 2020 | Wedding | Alex Johnson
Trisha + Marcos: A Joyful Celebration Under the Stars
The June 2019 wedding of Trisha and Marcos was a beautiful celebration of love and family. The colorful hues and thoughtfully chosen details transformed the venue into a summer wedding dream. The couple was joined by their beautiful pup, Stella, who stole hearts as she greeted guests and joined in on the touching ceremony. Guest headed to the vineyard surrounded lawn to enjoy a delicious dinner and homemade cookies baked by the couple's family. As the stars came out, a night of dancing was kicked off by the bride and groom's playful choreographed routine. This joyous group kept the fun going throughout the night as the celebrated the new Mr. and Mrs.
"This place is so special! What a gem! So many beautiful things here you hardly have to add decor! The staff couldn't have been more accommodating and flexible, especially with our families and a lot of last minute decisions being made."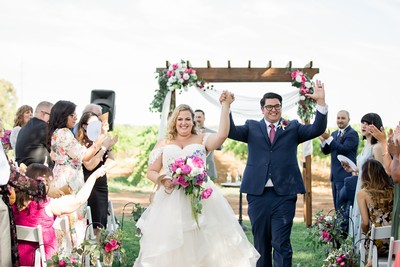 Venue: McConnell Estates Winery
Photographer: White Daisy Photography
Comments
Faizan
@ Jun 22, 2020 at 7:04 AM
Wow! bride and groom are looking beautiful. they had awesome life in future.
Tina
@ Apr 3, 2021 at 4:10 AM
Found your post interesting to read. I cant wait to see your post soon. Good Luck for the upcoming update.This article is really very interesting and effective.
Airlinespolicy
@ Jul 22, 2021 at 3:12 AM
The cancellations have to be done within 24 hours from the date of purchase then a refund will be transferred to your account. With United 24 Hour Cancellation you don't have to take any stress about the cancellation. May this paragraph will help you in complicated situations.
Airlinespolicy
@ Jul 28, 2021 at 4:43 AM
If you are worried about end-time cancellations then the Korean Air Change Flight will understand your situation. It provides you with flexible and affordable change fees. pessengers can make changes in flight date, time, and travel of destination. In this paragraph, you will understand all about flight change policy.
https://airlinespolicy.com/flight-change-policy/korean-air-change-flight-policy/