2018 Wine Doods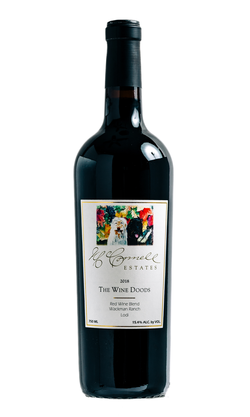 This wine is a blend of Petite Syrah and Zinfandel, with notes of plum and black berries, this easy drinking wine is inspired by our hardest workers at the winery. Geronimo and Chewy are the two dogs of the winery. They're a massive help! When you stop buy you can always say hi to them! They will be ensuring the best customer service in town!
10% of the bottle sales of this wine go to friends of the Elk Grove Animal Shelter to help other dogs like these find homes.
Wine growing
This Zin and Petite Syrah was grown on our specially selected block in our Estate vineyards. We prioritize the use of organic practices incorporated with elements that enhance our vineyard sustainability such as introducing four more bee boxes added to our Estate this year and a block dedicated entirely to high output solar panels.
Winemaking
All of our wines are produced with minimal intervention. While our winemaker and team dedicates the greatest level of care to crafting a unique identity in each of our wines, we stand by the principles of minimizing additives such as sulfites and never adding sugar or acids. All of our wines are produced in small lots and pressed gently with a bladder press. With our Wine Doods, we aged the wine in a blend of neutral French and American oak, to poise our Estate fruit as the focal point to our wines.
Product Reviews