Chili Cook Off WC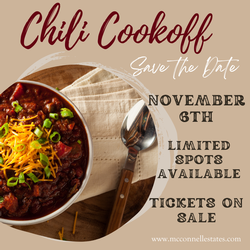 Come by to see our wine club members compete for a prize! Come support your friends and family alike who are competing.
If you're hungry on a Friday Night or just want good wine and food stop by November 6th from 12:00pm - 3:00pm. Enjoy a complimentary glass of wine that you can take home! For just $15 you get a glass, a glass of wine, and enough chili to eat!
Vote for your favorite out of the bunch!
Product Reviews