Winery Events
---
Succulent Workshop
Sunday, Feburary 24th at 11:30am
The venue is delightful, the knowledge bestowed on you is deep, AND you leave having created a fabulous succulent arrangement in a charming heart shaped terra-cotta planter. It just doesn't get much better. And then it does because you can take advantage of being at McConnell Estates and enjoy a glass or two of delicious wine. So check your calendar, call a friend, and make plans to attend. These workshops sell out quickly.

Registration of $50 includes instruction and everything you need to make your succulent arrangement as shown. Of age guests may purchase beverages on site.
---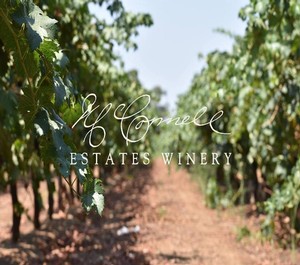 March Wine Club Release Party
Saturday, March 9th from 12-3p
We will be kicking off the Spring season with our March Wine Club Release Party!
Join us Saturday, March 9th from 12pm until 3pm for food pairings, a new wine release, live music by Jimmy Ashley, and good company.

Each Wine Club membership admits two people, all additional guests are $10 each at the entrance. Please RSVP to attend.

*No one under 21 allowed* No dogs* No chairs (seating will be provided)*
---
Generational Winemakers' Tours
Sunday, March 24th at 11am, 1pm and 3pm
Join winemaker Mike, as well as his assistant winemaker and son, Zachary, on a tour of our grounds and cellar. Learn about our history, the winemaking process, and get to know the family who makes your favorite wine! Complimentary meats and cheeses.
Tickets are:
$15 Wine Club (Free to Estates Members)
$20 General Public
Tickets also include a $5 coupon for day-of sales!
---
Easter Bunny Pictures
Saturday, March 30th from 12-4p
Join us for New and improved Easter photos! We've taken all your feedback from previous events and created a new system for photos to make the event run smoothly and quickly!
How it works:
Tickets will be put on our website for wine club members to purchase a week before general public. The wine club price is $5 for a ticket, and each ticket means one photo with the Easter bunny. Wine club members may purchase up to 4 tickets total, and give them to friends. The $5 will be used to guarantee you a spot at the event, but you will also receive $5 off a bottle of wine purchased at the event!
General public tickets will be released if we do not sell out all of our tickets to club members. The price for general public is $15, which guarantees a spot at the event. People who purchase general public tickets will also receive $5 off a bottle of wine at the event.
This new system will allow us to assign an hour time slot to each ticket and limit wait times! Tickets are non refundable once purchased.
---

Wine & Cheese Class
Sunday, March 31st at noon
Join us for a fun and educational class where we pair Stuyt Dairy cheese with our McConnell Estates wine! Tickets available through our website!