Winery Events
Due to private event, our Tasting Room will be closing at 3pm on Septepmber 23rd. To join in on the fun, see the event below. Thank you for your coorperation!
Sax on the River presents smooth
Saturday, September 23rd at 3pm
In 2017 Sax on the River presents A Smooth Jazz "Concert for the Cure" is a Susan G. Komen Northern & Central California event.
Artists include: Marcus Anderson, Phil Denny, Adam Hawley, Cecil Ramirez and Daryl Black.
---
Family at the Farmtable
*Reschduled for October 6th due to high temperatures*
Family at the Farmtable
Friday, October 6th at half past six in the evening
We are thrilled to invite you to join us for a Winemaker's Dinner, an event for you. The three brothers who created this winery will be hosting an intimate four-course meal among the vineyards—a picturesque dinner at dusk with family, food, wine, and memories to be shared by all.
Jackson Catering has designed an impeccable menu suited perfectly for this harvest-time dinner.
• Passed Hors D'oeuvres—during a Cocktail Hour of Barrel Tasting •
Caprese Skewers; Fresh Mozzarella cheese, Basil, Extra Virgin Olive Oil
Grilled Shrimp Tostada; Avocado Relish, Crème Fraiche
Fried Flat Bread; Creamy Ricotta, Smoked Bacon, and Grilled Local Peach
• Salad Course—paired perfectly with McConnell Estates wine chosen by the winemaker •
Harvest Salad; Sliced Stone Fruit, Citrus, Candied Pecans and Fresh Herbs all in a Red Wine Vinaigrette
• Main Course—paired perfectly with McConnell Estates wine chosen by the winemaker •
Carved Angus New York Loin; Tomato and Rosemary Butter, Savory Corn Pudding, and Seasonal Vegetable Succotash
• Dessert—paired perfectly with McConnell Estates wine chosen by the winemaker •
Custom desserts by Above & Beyond Cakes
$85 per person Tickets available until 11:59p, Monday, October 2nd
---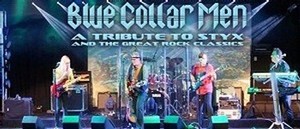 Blue Collar Men - tribute to Styx
Saturday, October 7th - Gates open at 5:30 - Concert at 6:30
Blue Collar Men has received wide acclaim wherever they have played. They accurately recreate the music of STYX as you heard on the records, plus, all the great rock classics are included in their repertoire with covers from Journey, Kansas, REO Speedwagon, Boston, Night Ranger, The Beatles, and much more.
SMOKERS WILD BBQ FOOD TRUCK
Pre-sale tickets end Thursday at 11:59pm; tickets available at the door
PURCHASE TICKETS HERE
---
Murder Mystery Dinner Party
Friday, October 13th at half past six o' clock
Travel Back to the Roaring 20's - Murder Mystery Dinner Party
The game will play out over a three course meal catered by The Brickhouse. Complimentary wine tasting during the cocktail social.
The roaring twenties murder mystery dinner party is set at the height of prohibition in a 1920's speakeasy. Join us if you are up for loads of blackmail, deceit, intertwining relationships and murder - all packaged in a fun flapper & gangster themed murder mystery party!
SOLD OUT
---