Winery Events
---

Zina Sheya Design Workshop
Sunday, October 20th at 2pm
Fall Organic Cinderella Succulent Centerpiece--this is a hands on make it & take it workshop.

Spend a few hours unwinding at the beautiful McConnell Estates Winery getting creative with Zina Sheya Designs. In this workshop you will create a beautiful fall Cinderella pumpkin succulent center piece – Perfect center piece from October all the way through Thanksgiving- then plant directly in the yard or pot. Optional Mini Hostess pumpkins also available to create.
Cost to Attend Workshop $75.00 includes instruction & Materials.
Limited Seats Available!

Each ticket will also include a $5 coupon to apply to bottle purchase during the event!
---

Yoga by Kaia Fit
Sunday, October 20th at 11am
Join Kaia Fit at McConnell Estates Winery for a fun afternoon of yoga on the lawn! Tickets are $20 and include a complimentary glass of wine, as well as a professionally led yoga class.

Call Jenn at 916-591-0518 to reserve your spot today!
---
Chili Cook Off
Saturday, November 2nd from 12-3p
Join us for our Fourth Annual Chili Cook-Off!

Tickets to the event include 5 tastings, chili tastings, and a complimentary wine glass!

Tickets:
$12 for Wine Club Members
$15 for General Public
$20 at the door (not guarenteed)
---
Murder Mystery Dinner
October 18th and November 15th
Murder at the Old Cadbury Castle
Guests received their invitations to a dinner party in honor of the Golden Grove Historical Society at the Cadbury Mansion. Most had never been invited to such an event, but they put on their best dinner party attire and arrived in style at the mansion. After mingling about and catching up on the town's events, some guests realized they had sordid pasts together. Dinner was served, which served as a muchneeded distraction for the mayhem that was brewing. Seconds after forks were down, a victim was claimed! The guests had to rally together to figure out whodunit before the murderer could strike again. Believing they had the murder solved, the guests took turns accusing who they believed was the murderer. Then, the murderer confessed! The guests were astonished, but overall the night was a complete success…murder and all.
Both Dates SOLD OUT
---
Shopping Night
Thursday, Novmeber 14th from 5:30-8:30
Join us on a Thursday evening for wine & shopping! Visit us for first dibs on all of our adorable Christmas merchandise as well as a special release of our seasonal sparkling wine! We will also be bringing out an additional vendor, TBD! This is the perfect time to start your holiday shopping!
---
Tour of Tempranillo
Friday, November 15th through Sunday, November 18th
To celebrate International Tempranillo Day there will be a self-guided tour of Lodi based wineries producing a Tempranillo the third weekend in November (15th-17th). Visit any one of the participating wineries to collect a complimentary guidebook and begin your exploration of the 4th Annual Lodi Tour of Tempranillo. Each winery will have a different offering and many will have special tastings only available at this event. Participants will be entered in a raffle for each winery they visit.

Taste Tempranillo and you will taste the heart and soul of Spain!
---
Wreath Making Class with Zina Sheya
Sunday, December 1st at 11am
Fresh Holiday Evergreen Wreath– This is a hands on Make it & Take it Workshop

Spend a few hours getting creative with Zina Sheya Designs at McConnell Estates Winery. In this workshop you will create a beautiful fresh mixed evergreen wreath or Door swag- Get in the Holiday Spirit & Create a lifelong memory-
Cost to Attend Workshop $85.00 includes instruction & Materials
Limited Seats Available!
---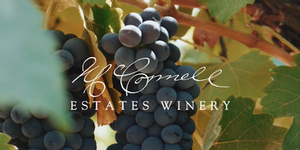 Christmas Wine Club Party
Saturday, December 7th from 12-3p
Save the date for out favorite party of the year! More details to come!